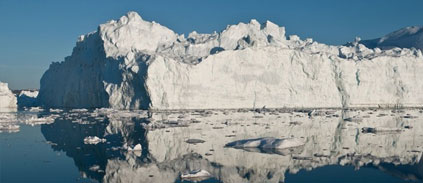 Canada's glacial ice draws millions of tourists and provides drinking water to two countries, but this important economic resource could disappear by the end of the 21st century, a new study finds.
For the study, scientists devised a new computer model that predicts how glaciers will respond to future climate change. The results were dismal.
In the Rocky Mountains of Alberta and British Columbia, 90 percent of the spectacular mountain glaciers may vanish by 2100, according to research published today (April 6) in the journal Nature Geoscience. This region includes the Columbia Icefield in Jasper National Park, visited by more than 1 million people every year. Rocky Mountain glaciers also feed meltwater to the Columbia River, which flows through Canada and the United States.
"Over the next century, there is going to be a huge loss," said lead study author Garry Clarke, a glaciologist at the University of British Columbia in Vancouver. "The glaciers are telling us that we're changing the climate."
Glaciers in the wetter, taller mountains of northwestern British Columbia will fare better, the study reported. These glaciers can shrink back into the cold, high-elevation mountains and will keep about 50 percent of their volume by the century's end. "The mountain peaks are essentially refugia for glaciers," Clarke told Live Science.
The study improves upon previous predictions of glacial ice loss, Andreas Vieli, a climate scientist at the University of Zurich in Switzerland, wrote in a commentary accompanying the study, also published today in Nature Geoscience. Until now, glacier loss estimates either intensely measured one or two glaciers, or broadly surveyed entire mountain ranges and continents.
Clarke and his colleagues created a computer model that simulates how each individual glacier is likely to flow and change shape as it melts. The model combines climate scenarios from the Intergovernmental Panel on Climate Change, the international body that assesses climate change science, with digital topography of glacial valleys and ice physics.
The method can be applied to glaciers anywhere in the world, Clarke said. "I think the big, truly serious problems are in Central Asia and South America, and we'd very much like to transfer this methodology to other [regions]," he said.
In the Andes, glaciers have lost 30 to 50 percent of their surface area in the past four decades, studies show. Parts of the Himalayas are also rapidly losing glacial ice, though some regions are gaining it.
There are more than 17,000 glaciers in Alberta and British Columbia, covering more area than the ice-covered Himalayas, the researchers said. (The ice accounts for 10,308 square miles, or 26,700 square kilometers.)
The glacial melt in western Canada, in both coastal and inland areas, will peak sometime between 2020 and 2040, the study shows. The melt will temporarily boost summer stream flow in the Columbia, Athabasca and Saskatchewan River basins, the researchers said.
Glacial retreat in Canada is already exposing ancient archaeological treasures, such as caribou hunting grounds with artifacts left behind by Aboriginal peoples. In summer, caribou seek out perennial snow patches to escape mosquitoes. Scientists are prospecting for these caribou hunting sites as they melt out, Clarke said.
Livescience