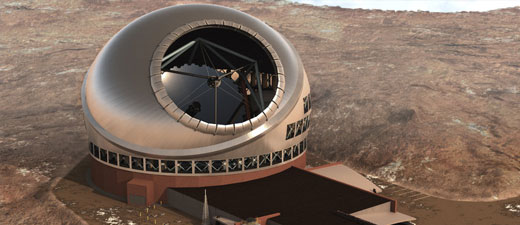 An international consortium of astronomers whose plan to erect a giant telescope on Mauna Kea in Hawaii has been stalled by protests and legal challenges that it would build the telescope in the Canary Islands if it was blocked in Hawaii.
The $1.4 billion Thirty Meter Telescope (named for the diameter of its main light-collecting mirror) would be the largest telescope in the Northern Hemisphere if and when it is constructed. Mauna Kea, with its high altitude and calm dark skies, has long been considered the premium telescope site in the world and is home to 13 telescopes. It is still the first choice for the Thirty Meter Telescope, astronomers said.
But the telescope has faced resistance from environmentalists and native Hawaiian groups who say that the natural and cultural resources of Mauna Kea have been degraded by too many telescopes on its pristine and sacred summit, and that an 18-story telescope dome — which would be the largest building on the Island of Hawaii — does not fit in a conservation district.
Last year the Hawaiian Supreme Court voided the telescope's building permit on procedural grounds. New hearings on the telescope started last month and are expected to culminate in a decision next year. In the meantime, the consortium known as the Thirty Meter Telescope International Observatory, or TIO, has investigated a variety of sites worldwide, including in Mexico, Chile, India and China.
The Canary Islands in Spain are already home to telescopes, including the Gran Telescopio Canarias, which, with a primary mirror 10.4 meters across, is one of the largest operating in the world.
Henry Yang, chairman of the TMT International Observatory Board and chancellor of the University of California, Santa Barbara, said in a statement from the observatory: "Mauna Kea continues to be the preferred choice for the location of the Thirty Meter Telescope, and the TIO Board will continue intensive efforts to gain approval for TMT in Hawaii. TIO is very grateful to all of our supporters and friends throughout Hawaii, and we deeply appreciate their continued support."
new york times