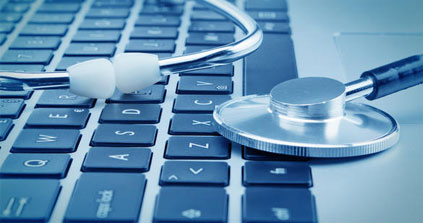 IBM is taking its Watson artificial-intelligence technology into health care in a big way with industry partners, a pair of acquisitions and an ambitious agenda.
The initial three industry partners are Apple, Johnson & Johnson and Medtronic. On Monday afternoon, after the close of stock trading, IBM also announced it would buy two start-ups: Explorys, a spin-off from the Cleveland Clinic whose data on 50 million patients is used to spot patterns in diseases, treatments and outcomes; and Phytel, a Dallas maker of software to manage patient care and reduce readmission rates to hospitals.
The IBM plan, put simply, is that its Watson technology will be a cloud-based service that taps vast stores of health data and delivers tailored insights to hospitals, physicians, insurers, researchers and potentially even individual patients.
"We're going to enable personalized health care on a huge scale," said John E. Kelly, a senior vice president who oversees IBM's research labs and new initiatives.
To date, IBM has done some individual projects using Watson technology with leading medical centers, including Memorial Sloan Kettering Cancer Center in New York, the University of Texas MD Anderson Cancer Center in Houston and the Cleveland Clinic. But the creation of the Watson Health unit, Mr. Kelly said, is an effort to apply the technology to the mainstream of health care.
And while IBM has been commercializing Watson technology with tools for mining Twitter, weather and Internet of Things data, Mr. Kelly said Watson Health was the first move into a specific industry.
The Watson Health announcement is also the latest in flurry of initiatives IBM has announced this year that include new corporate partnerships as well as moves in cloud computing, data analytics and Watson. They are evidence that IBM is intent on investing for future growth, and showing it is doing so, in a year when its financial performance is likely to lag.
IBM has reported disappointing earnings recently, and Virginia M. Rometty, IBM's chief executive, has told industry analysts and investors that 2015 would be a transition year in which new growth businesses like Watson did not yet overcome the profit erosion in some of its traditional hardware and software products.
IBM's broad vision of combining and analyzing health data from varied sources to improve care has been around for decades. But the company and its partners say that technology, economics and policy changes are coming together to improve the odds of making the IBM venture a workable reality. They point to improvements in artificial intelligence, low-cost cloud computing and health policy that will reward keeping patients healthy instead of the fee-for-service model in which more treatments and procedures mean more revenue.
"Forces in health care are aligning as never before," said Sandra E. Peterson, a group worldwide chairman at Johnson & Johnson in charge of information technology and new wellness programs. "It could be a unique moment and something like this could have real legs."
A focus of the Johnson & Johnson partnership with IBM will be improving patient care before and after knee and hip replacements. The company will apply Watson technology to data sources ranging from patient records to digital fitness devices and smartphone applications, which can monitor movement and vital signs. "It will allow us to do much more integrated, personalized care," Ms. Peterson said.
Medtronic, a large medical equipment maker, wants to use data intelligently to treat diabetes patients beyond providing them with its glucose monitors and insulin pumps. Medtronic devices are already digital and produce a lot of data, but the company plans to use the Watson software to spot patients trending toward trouble and automatically adjust insulin doses and send alerts to care providers and the patients themselves.
"The goal is dynamic, personalized care plans so you can delay or stop the progression of diabetes," said Hooman Hakami, executive vice president in charge of Medtronic's diabetes group.
Apple is increasingly a major supplier of health sensors, from iPhone apps to the Apple Watch. Its recently introduced HealthKit and ResearchKit software make it easier for applications and researchers to harvest health information from millions of owners of Apple products, with their permission. That data can now be plugged into Watson. "We want to be the analytics brains behind HealthKit and ResearchKit," Mr. Kelly said.
The IBM initiative raises questions on how data is handled and about privacy. Mr. Kelly said the data scrutinized by Watson will typically be anonymized and often be read by Watson but not removed from hospital or health company data centers. "There will be no big, centralized database in the sky," Mr. Kelly said.
Even critics of health information technology say the IBM effort holds promise. "If that future when all this stuff works is going to become real, then having some of the key players come together is the only way it's going to happen," said Dr. Robert M. Wachter, a professor at the University of California, San Francisco medical school and author of "The Digital Doctor: Hope, Hype and Harm at the Dawn of Medicine's Computer Age." "This could be a pretty important step along the way."
nytimes