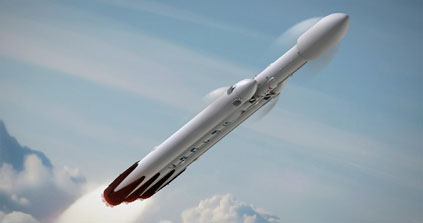 SpaceX's enormous Falcon Heavy rocket finally has a launch date: Lee Rosen, the company's vice president of mission and launch operations, says it will launch next spring.
The Falcon Heavy has been a topic of discussion for some time now, but it's had its fair share of delays.
Set to be the world's most powerful rocket in operation, the Falcon Heavy will be capable of launching a massive 115,000 pounds into low-Earth orbit. Its power is only second to that of the Saturn V rocket, which launched the Apollo missions to the moon, and the Soviet Energia rocket.
SpaceX first said that it would launch the Falcon Heavy in 2013, but that launch was delayed until this year. It was then delayed further when the SpaceX Falcon 9 failed on June 28.
The rocket itself is made up of three Falcon 9 rockets combined. Interestingly enough, SpaceX plans on recovering the stage one rocket boosters used for other missions – a process that can be seen in detail in the video below.
Of course, it's important to mention that if the rocket does finally launch this upcoming spring, it will only be a demonstration. A second launch is planned for September 2016 for the Air Force, which will bring a total of 37 satellites into space.
techtimes