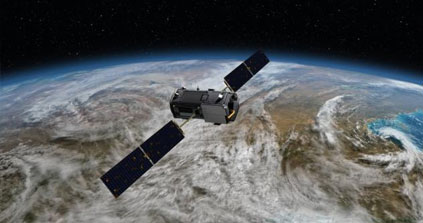 China plans to launch satellites to monitor its greenhouse gas emissions as the country, estimated to be the world's top carbon emitter, steps up its efforts to cut such emissions, official news agency Xinhua said on Monday.
News of the plan comes as more than 150 world leaders arrived in Paris for climate change talks and Chinese President Xi Jinping and U.S. President Barack Obama said they would work together towards striking a deal that moves towards a low-carbon global economy.
According to the Xinhau report, the country's first two carbon-monitoring satellites will be ready by next May after four years of development led by Changchun Institute of Optics and Fine Mechanics and Physics, part of China's Academy of Sciences.
No launch date was given and no other details of the plan were announced. The government and research institute were not available to comment.
If successful, it would be the world's third country to send satellites into orbit to monitor greenhouse gases, coming after Japan which was the first country to do so in 2009, followed by the United States last year.
The satellites will be key for expanding research into emissions – currently, China is only able to collect data from the ground, whereas the probes will also monitor oceans, which make up 71 percent of the world's surface.
While these probes will have worldwide scope it would improve China's emissions data collection, which many experts say is inaccurate.
The country's emissions are estimates based on how much raw energy is consumed, and calculations are derived from proxy data consisting mostly of energy consumption as well as industry, agriculture, land use changes and waste.
Reuters